---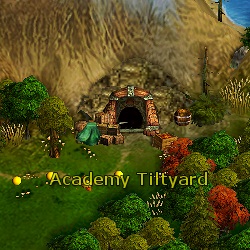 Adjoining Locations
Edit
Medal of Honor
Edit
Academy Tiltyard
Number of Required Battles
20
Reward
15x Eyebeast or 15x Ghost
Shop Contents
Edit
Main Quests
Edit
A Hidden Threat
Quest Giver
Maximus the Exorcist
Quest Task
Repel the attack of the Devourers of Darkness and Minions of Chaos
Related Battle
Devourers of Darkness and Minions of Chaos
Previous Quest
Guardians of the Chambers
Next Quest
What the Gate Doesn't Say
Completion Reward (gold)
13800
Completion Reward (exp)
448
Completion Reward (units)
12x Dark Griffin
What the Gate Doesn't Say
Quest Giver
Speaking Gate
Quest Task
Give a full report to Maximus
Previous Quest
A Hidden Threat
Next Quest
A Report to Albus
Completion Reward (exp)
112
A Report to Albus
Quest Giver
Maximus the Exorcist
Quest Task
Obtain an audience with Albus
Previous Quest
What the Gate Doesn't Say
Completion Reward (gold)
2300
Completion Reward (exp)
224
Completion Reward (units)
1x Living Tree
Daily Quests
Edit
Like Moths in the Fire
Quest Giver
Vitcher the Exorcist
Quest Task
Destroy 1000 Young Fairies
Related Battle
Moths
Completion Reward (gold)
11500
Completion Reward (exp)
336
Completion Reward (spells)
2x Fiery Arrow or 1x Entanglement
Side Effects
Quest Giver
Vitcher the Exorcist
Quest Task
Destroy 300 Zombies
Related Battle
Rotting Zombies and
Completion Reward (gold)
9200
Completion Reward (exp)
280
Completion Reward (material)
1x Silver Ingot or 1x Stardust

"Puppeteers" (Lvl 23) - Destroy 2 squads of Flesh Conjurors. Reward: 13800g, 336 exp and 3x Alchemist or 2x Eyebeast.
Main Quest Battles
Edit
Non-Quest Battles
Edit
Daily Quest Battles
Edit
Wanted Battles
Edit
Ad blocker interference detected!
Wikia is a free-to-use site that makes money from advertising. We have a modified experience for viewers using ad blockers

Wikia is not accessible if you've made further modifications. Remove the custom ad blocker rule(s) and the page will load as expected.