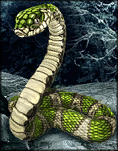 ---
Faction: Beasts
Tier: Common
Class: Warrior

Giant Long-Tailed Serpents roamed the expanses of Reikai before the War with the Guardians. They were transformed by the Energy of the Cataclysm and became more swift, more poisonous, more dangerous, and more deadly. Their bite is not only damaging, but can poison the victim for a period of time.

Leadership: 40
Health: 350
Damage: 70-80
Damage Type: Physical
Range: 1
Attack: 80
Defense: 80
Initiative: 5
Speed: 3
Critical Hit Chance: 12%
Physical Resistance: 0%
Alchemical Resistance: 15%
Magical Resistance: 0%

Purchase Price: gold or gems
Repair Cost: gold and 2 stamina

Abilities
Edit
Snake Bite
The Snake Bite deals 70-80 damage. It has a 100% chance of poisoning a Common enemy by dealing damage each turn.
Damage:
70-80
Damage Type:
Physical
Range:
1
Cooldown:
0 round(s)
Duration:
2 round(s)
Features
Beast - Receives extra damage from units with the Hunter feature.
Relevant Items
Edit
Swamp Serpent Enhancing Items
Beasts Enhancing Items
Common Enhancing Items
Warrior Enhancing Items
Common Beasts Enhancing Items
Common Warrior Enhancing Items

| Level | Gold | Strategy Books | Crystals | Success Rate% (Gold/Crystals) | Bonuses |
| --- | --- | --- | --- | --- | --- |
| 1. | 2000 | 1 | 1 | 100/100 | +10 Attack |
| 2. | 6000 | 1 | 2 | 100/100 | +10 Defence, +2% Alchemical Resistance |
| 3. | 18000 | 1 | 3 | 100/100 | +10 Attack, +3% Physical Resistance |
| 4. | 37000 | 1 | 4 | 100/100 | +10 Defence |
| 5. | 75000 | 1 | 5 | 100/100 | +10 Attack, +2% Alchemical Resistance |
| 6. | 100000 | 1 | 7 | 100/100 | +10 Health, +11 Defence, +5 Damage for Serpent Bite |
| 7. | 110000 | 1 | 9 | 100/100 | +11 Attack, +2% Critical Hit Chance |
| 8. | 120000 | 2 | 12 | 90/100 | +11 Defence, +1% Magical Resistance |
| 9. | 130000 | 3 | 15 | 80/100 | +12 Attack, +1% Alchemical Resistance |
| 10. | 145000 | 3 | 18 | 70/100 | +10 Health, +12 Defence, +5 Damage for Serpent Bite |
| 11. | 155000 | 4 | 22 | 60/100 | +12 Attack, +1% Physical Resistance |
| 12. | | | | | +13 Attack, +12 Defence |
| 13. | | | | | +13 Defence, +1% Magical Resistance |
| 14. | | | | | +20 Health, +1 Initiative |
| 15. | | | | | +14 Attack, +13 Defence, +(5-10) Damage for Serpent Bite |
The total boost this unit will get after being fully upgraded:
+92 Attack
+103 Defence
+40 Health
+(15-20) Damage for Serpent Bite
+4% Physical Resistance
+2% Magical Resistance
+5% Alchemical Resistance
+1 Initiative
+2% Critical Hit Chance