---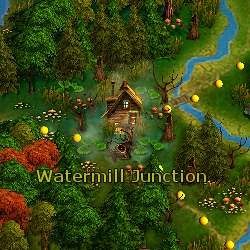 Adjoining Locations
Edit
Northern Bay
Free Village
Shady Grove
Medal of Honor
Edit
Shop Contents
Edit
'
Main Quests
Edit
The Father's Sins
Quest Giver
Torvald Hammerhorn
Quest Task
Defeat Eric's band
Next Quest
The Family Tool
Completion Reward (gold)
9250
Completion Reward (exp)
384
Completion Reward (material)
3x Fireball
The Family Tool
Quest Giver
Elder Sedwich
Quest Task
Meet the alderman of Free Village
Previous Quest
The Father's Sins
Next Quest
The Hardships of Living Free
Completion Reward (gold)
1950
Completion Reward (exp)
100
Completion Reward (material)
1x Wood
The Key is Ready
Quest Giver
Torvald Hammerhorn
Quest Task
Deliver the key to the Archmage
Previous Quest
The Magic Dew
Next Quest
A Visit to the Hermit
Completion Reward (gold)
1950
Completion Reward (exp)
100
Completion Reward (material)
1x Wood
Daily Quests
Edit
Royal Decree
Quest Giver
Phil Dougherty
Quest Task
Kill 180 Zombies and 80 Necromancers
Related Battle
Uninvited Guests, Sinister Necromants
Completion Reward (gold)
9750
Completion Reward (exp)
300
Completion Reward (material)
2x Furs or 2x Alchemist's Jar

"The Witch's Gift" - Destroy 2 band(s) of Dead Travelers. Reward - 11700g, 400 exp, and 4x Swamp Serpent or 2x Brontaur.
Normal Battles
Edit
Wanted Battles
Edit
Ancient Visitors (Lvl 24)
Trophies: Forest Guardian 2x
Ad blocker interference detected!
Wikia is a free-to-use site that makes money from advertising. We have a modified experience for viewers using ad blockers

Wikia is not accessible if you've made further modifications. Remove the custom ad blocker rule(s) and the page will load as expected.