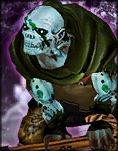 ---
Faction: Chaos
Tier: Common
Class: Defender

No, they're not dead. But the disease of the Keepers has changed their flesh so much that none can tell whether they be men, elves, or dwarves. One look by the Zombies causes intense pain, affecting the body with serious illness.

Leadership: 65
Health: 550
Damage: 100-120
Damage Type: Physical
Range: 1
Attack: 70
Defense: 100
Initiative: 1
Speed: 2
Critical Hit Chance: 10%
Physical Resistance: 15%
Alchemical Resistance: 20%
Magical Resistance: 0%

Purchase Price: gold or gems
Repair Cost: gold and 2 stamina

Abilities
Edit
Jagged Axe
The Zombie's basic attack, dealing 100-120 points of physical damage.
Damage:
100-120
Damage Type:
Physical
Range:
1
Cooldown:
0 round(s)
Curse
The Zombie puts a curse on the opponent, inflicting 20-30 magic damage instantly and 30 additional damage over the next 2 turns.
Damage:
20-30
Damage Type:
Magical
Range:
4
Cooldown:
5 round(s)
Duration:
2 round(s)
Features
Undead - Receives extra damage from units with the Servant of the Light feature.
Relevant Items
Edit
Zombie Enhancing Items
Chaos Enhancing Items
Common Enhancing Items
Defender Enhancing Items
Common Chaos Enhancing Items
Common Defender Enhancing Items

| Level | Gold | Strategy Books | Crystals | Success Rate % (Gold/Crystals) | Bonuses |
| --- | --- | --- | --- | --- | --- |
| 1. | 3500 | 1 | 1 | 100/100 | +10 Defence |
| 2. | 10000 | 1 | 2 | 100/100 | +10 Attack |
| 3. | 26000 | 1 | 3 | 100/100 | +10 Defence, +2% Magical resistance |
| 4. | 50000 | 1 | 4 | 100/100 | +10 Attack |
| 5. | 98000 | | | | +10 Defence, +2% Physical resistance |
| 6. | | | | | +10 Health, +1% Alchemical resistance, +5 Damage Jagged Axe |
| 7. | | | | | +10 Attack, +5 Damage Curse |
| 8. | | | | | +11 Defence, +2% Critical hit |
| 9. | | | | | +11 Attack, +2% Alchemical resistance, +5 Damage per turn Curse |
| 10. | | | | | +15 Health, +1% Magical resistance +10 Damage Jagged Axe |
| 11. | | | | | +12 Defence, +5 Damage Curse |
| 12. | | | | | +12 Attack, +2% Critical hit |
| 13. | | | | | +13 Defence, +5 Damage per turn Curse |
| 14. | | | | | +13 Attack, +1 Initiative |
| 15. | | | | | +30 Health, +13 Defence, +15 Damage Jagged Axe |
The total boost this unit will get after being fully upgraded:
+66 Attack
+79 Defense
+55 Health
+30 Damage for Jagged Axe
+10 Damage for Curse
+10 Damage per turn for Curse
+2% Physical Resistance
+3% Magical Resistance
+3% Alchemical Resistance
+4% Critical Hit
+1 Initiative